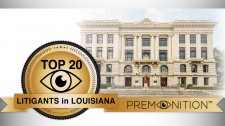 Miami, USA, April 11, 2017 (Newswire.com) - ​Artificial intelligence company Premonition Analytics has recently released a new survey of Louisiana law firms, producing the first public ranking based on court records of the state's highest-volume practices by caseload. With its unique French-influenced private law system, which grants individual judges greater discretion in their rulings than is typical of common law, Louisiana can present a formidable challenge to parties from out-of-state forced to litigate in its courts. This is where Premonition comes in.
According to the company's website, their service combines the world's largest database of court records with sophisticated data-mining algorithms. This software allows their clients to access reports on any given firm's performance, including information on their average case duration and overall win rate. The following chart shows the state's busiest firms for 2015-2016:
"Once the information in our database is widely available, there's no going back. This new transparency will change litigation forever."

Toby Unwin, CIO, Premonition
Louisiana's Busiest Law Firms
Joseph Warren Browning
Eaton Group Attorneys, LLC
Newman Mathis Brady & Spedale
Couch, Conville & Blitt, LLC
Tonry, Ginart & Jones, LLC
Law Office of Mary Grace Knapp, LLC
Abbott, Simses & Kuchler, APLC
Bouterie Law Firm
Fontana & Fontana, LLC
Lorna Perez Turnage
Southeast Lousiana Legal Services
Tabary & Borne, LLP
As in most states, many of the highest-volume firms specialize in collections, with practices like Eaton Group and Newman, Mathiss, Brady & Spedale having some of the state's quickest turnover rates in terms of caseload versus duration. The state's busiest litigators also include Southeast Louisiana Legal Services, which broke ground in 1979 with a grant from the Legal Services Corporation, and have since been doing critical work serving Louisiana's low-income population in civil litigation (the state has the third highest poverty rate in the nation). They also run the Northshore Pro Bono Project, where attorneys dedicate their time to help in areas like employment law, housing/code enforcement and living wills.
Beyond their data on attorneys, Premonition also offers clients a Judge Report, giving them the chance to understand how their assigned judge may view their particular type of case. "You'll find that certain judges are very favorable to an attorney, where other judges simply don't like them. We may not know why, but if there's a statistically significant impact, we can see it," says Premonition Director of Business Development Nathan A. Huber. "The old saying, 'a good lawyer knows the law, a great lawyer knows the judge'—there is actually data to back that up." When you add in the discretionary powers allowed Louisiana's judges under the civil law system, it's even more critical for clients to be able to get a 'read' on the tendencies of the specific judge trying their case.
Premonition has released a number of surveys in recent weeks, looking at state-by-state law firm rankings as well as industry-specific analyses. "We want the public to know what our technology can do," says Premonition CIO & Co-Founder Toby Unwin. "Once the information in our database is widely available, there's no going back. This new transparency will change litigation forever."
Contact:
Nathan Huber
Premonition L.L.C.
Business Development Director
nh@premonition.ai
(615) 364-0924
Source: Premonition
Share: