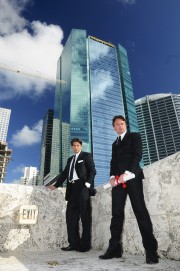 Big data uncovers surprising ways to tackle the hidden cost of litigation.
Florida, April 1, 2015 (Newswire.com) - According to Toby Unwin, "Florida Jurors have the average educational age of a 14 year old." In 2014, a dozen of them gave $23.6 Billion of R.J. Reynolds' money to the widow of a man who knew that smoking was dangerous and decided to do it anyway. Litigation costs every American $890 a year, the bulk of which falls on corporate shoulders. America spends $300Bn a year on Attorney fees, not counting case damages and lost business productivity. America has only 5% of the World's population, yet has 95% of the World's lawsuits due to being the only democracy without a "loser pays" rule.
Hiring an expensive Attorney at a reputable firm is no guarantee of Courtroom success. The average Big Law Partner costs $727 per hour, according to the American Bar Association, but only has a 53.49% Win Rate. Corporate Legal departments are starting to turn the tide with the smart use of Legal Analytics. "The Top 20 Attorneys by case type per Judge have an average 80.70% Win Rate" claims Guy Kurlandski, CEO of Legal Analytics startup, Premonition LLC (www.Premonition.ai). The company claims to have the World's largest database of Court Cases and that its Artificial Intelligence system is capable of picking Litigators that rarely lose before certain Judges.
"It's myopic to focus solely on hourly rate."

David Kinnear, Founder BK Advisory
"The good news is that Win Rate isn't correlated with billing rate. A Top 20 performer costs an average $358.52 per hour because Big Law firms have only a 7.7% representation in this group." says Premonition CIO, Toby Unwin. The company says that Big Firms do outperform smaller ones on average, but only by 6.98%. "That advantage comes with a higher cost", Kurlandski adds, "Amazingly Partners only win 1.4% more than Associates, the legal market is surprisingly random. If you are serious about winning you need to pick someone with a strong track record for that Judge."
"It's myopic to focus solely on hourly rate" says David Kinnear of B.K.Advisors, who recently joined the Premonition advisory Board. "Total spend is hourly rate multiplied by case duration plus losses. Fortunately you can now also filter out Attorneys who indulge in "clock running" by eliminating those with high average case durations" he said. A recent Premonition study found that Big Law firm performance varied between Win Rates of 93.51% and 0% with the busiest firm having both Litigators that always won as well as those that always lost.
"The only thing that's traditionally been tracked in law is hours worked and dollars billed. The industry hasn't kept track of case outcomes and total cost. Big Data tackling the problem has bought huge transparency to the area. Even where General Counsel insist on retaining existing firms due to strong relationships, we can still significantly increase their Win Rates by picking a panel from within them." says Kurlandski. It seems unlikely that record Litigation levels will drop in America any time soon, but added levels of transparency are starting to bring efficiency to the market.
Share: