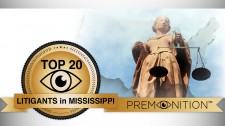 Miami, USA, April 13, 2017 (Newswire.com) - ​Existence for most in the state of Mississippi differs dramatically from the experience of many Americans. One of the most rural states in the Union, its capital and largest city Jackson has only 175,000 people, less than half the size of Anchorage, Alaska. Perhaps for this reason, Premonition Analytics' new survey of the state's busiest law firms reveals some of the lowest litigation figures in the country, with no firm handling more than 200 cases in the past three years. (By comparison, North Dakota's highest volume litigator brought more than 4,000 cases to court in the same period.) More surprisingly, two of the state's busiest firms won fewer than 10% of their cases, one of which won exactly none.
Mississippi's Busiest Law Firms
Singletary & Thrash
The Smallwood Law Firm, PA
Donald H. Jones, Sr., PA
E. Foley Ranson, PA
William L. Ducker, Attorney at Law
The Hendren Law Firm, PLLC
Farris Law Office
For reasons of privacy, the Miami-based artificial intelligence company has declined to publicly disclose the win rates of each firm named in its survey, but the company claims to have full performance statistics available on every lawyer in Mississippi, from average case duration to settlements won. The information is sourced from Premonition's database of court records, which it claims is the largest ever assembled. The records, which are artificially normalized from over 3,000 individual court systems, can be queried thanks to the company's proprietary artificial intelligence tool, allowing clients to generate detailed reports on their potential representation before making the critical decision.
Premonition Business Development Director Nathan Huber worked for several years in big law, performing research and analysis. "You'll find struggling attorneys who are looking for new business will start by asking, 'what's hot right now?'" says Huber. "'Is it drone law, is it aviation, you know, fill in the blank,' and you'll have attorneys, partners at these very large firms, put together marketing plans, glossy brochures, websites, bios, all kinds of information, having never tried a single case in that particular area. Yet when they go to meet with clients, they're presenting themselves as experts. That to me was an immediate indicator that something's broken in the litigation market. And clients know this, but they don't know how to call their bluff."
Per Premonition's claims, the margin for bluffing decreases dramatically for clients using the software. The performance of lawyers in different areas of practice, and even before specific judges, is revealed before the first handshake. Their website claims this presents "a very, very unfair advantage in litigation" but of course, that's a matter of perspective.
Throughout 2017, Premonition has issued its findings on a number of jurisdictions, including Washington, DC; Nevada; Louisiana and Indiana, as well as industry-specific reports on the most-sued automakers and banks. The company expects to continue its survey of the legal system, providing the public with unprecedented insight into a crucial but little understood aspect of American life.
Contact:
Nathan Huber
Premonition L.L.C.
Business Development Director
nh@premonition.ai
(615) 364-0924
Source: Premonition
Share: