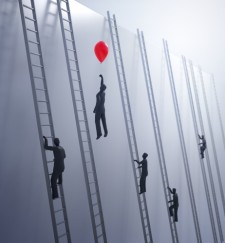 MIAMI, November 7, 2018 (Newswire.com) - In the insurance industry, litigation is the field of last resort to resolve disputes between claimants and insurers. Despite the insurer typically possessing big advantages in terms of resources and experience, choosing the wrong attorney can turn slam dunk cases into coin tosses. An unlucky toss can mean the loss of millions. Only with the recent rise of legal analytics has it become possible to truly see which lawyers generate real return on investment for their clients.
Miami-based firm Premonition AI announced the release of its LitigationScan service this week, a new report which analyzes the courtroom performance of lawyers to help clients select better representation. By quantifying a potential hire's performance and comparing it to that of other available lawyers, LitigationScan could prove to be a useful tool for insurance claims managers and general counsel seeking to lower their loss and expense ratios.
This is just the first in a planned series of case monitoring services that we believe will change how the industry as a whole prepares for its day in court.

Nathan Huber, Chief Business Development Officer
"Over the past few years Premonition has assembled a database of tens of millions of court records," notes Premonition Co-Founder & CIO Toby Unwin. "We've taught our AI to create performance metrics (win rates) for individual attorneys, and this information has proven to be of great interest to their current and potential clients. Insurers are already seeing real and significant savings."
LitigationScan seamlessly integrates Premonition technology into an insurer's existing claims system. The dashboard, designed for case managers, displays the top ten best-performing lawyers for each case, as well as the top ten within the company's current panel firms. LitigationScan automatically scans emails for cases, pulls the relevant data from its database, and generates a report.
The streamlined report uses a simple traffic light-inspired color code to forecast the expected results based on the lawyers, judge, case-type and jurisdiction involved.
"Green means there's a strong likelihood of victory; yellow means moderate difficulty is ahead, and red means that settling the case is probably your best option," Unwin explains.
LitigationScan's findings often hew against conventional legal wisdoms because it draws from information which has not been available to analysts prior to the advent of Big Data. By illuminating performance trends, LitigationScan frees general counsel to focus on preparing a brief based on the details and facts of their cases. Taking a lawyer's track record into account results in lower loss ratios over time, as well as lower expense ratios because LitigationScan accounts for the likely duration of each case.
"There's often a bit of reluctance on the part of clients to trust what the data tells them, but after a few months they see that LitigationScan's findings drive superior courtroom ROI," says Nathan Huber, Premonition's Chief Business Development Officer. "This is just the first in a planned series of case monitoring services that we believe will change how the industry as a whole prepares for its day in court."
About Premonition
Premonition has earned many accolades for its innovative technology. It was named one of the "Best Tech Startups of 2019" by The Tech Tribune, one of the "Top 15 Artificial Intelligence Platforms" by Predictive Analytics Today, and called perhaps "the most disruptive of all" by The Pha Group. The company has been featured in Forbes, FOXBusiness, and many other press outlets. Premonition has assembled the world's largest legal database, larger than every other legal database combined.
Contact:
Premonition LLC
Nathan Huber
nh@premonition.ai
(615) 364-0924
Source: Premonition
Share: