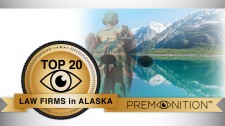 Miami, FL, May 2, 2017 (Newswire.com) - On maps of America, Alaska tends to be represented as a rough-edged blob floating off somewhere to the right, usually contained in a bubble as if to prevent it from drifting catastrophically into the continental United States' western seaboard. Although roughly three-quarters of a million Americans live in Alaska, the state's remoteness and severe climate creates a perception of an underdeveloped frontier. In reality, state capital Anchorage is comparable in size to mid-sized cities like Reno and Tallahassee. It's perhaps due to this misconception that Alaska's legal system has been traditionally been under-studied by scholars and analysts.
Premonition Analytics, a leader in the field of artificial intelligence, has recently released a comprehensive survey of Alaskan court data from 2015 - 2016, featuring a ranking of the state's busiest law firms based on caseload:
Alaska's Busiest Law Firms
Suttell Hammer & White, PS
Law Office Of Kimberly Stohr
Attorney General's Office
Aglietti Offret & Woofter
United States Department of Justice
Law Offices of Robert Schmidt, PC
State of Alaska Department of Law
John Hoag Attorney at Law

Premonition's data comes from its proprietary database, which includes court records from Alaska's four state court levels (Supreme, Appeals, superior, district). The database, which the company claims is the world's largest, utilizes artificial intelligence to parse up to 50,000 records per second. The tool allows users to analyze attorney/firm win rates, case duration and settlement averages, bringing unprecedented clarity to the process of choosing legal representation.
"Whether you're a native Alaskan or a foreign firm litigating on a resource claim in the state, chances are there is a gap between the perception of who is perceived to be a top local lawyer and who is actually the best attorney for your case," says Premonition CEO and Co-Founder Guy Kurlandski. "Everyone knows the relationship, good or bad, between specific lawyers and judges impacts the outcome of cases. For the first time, we have statistics that bear that out."
Notable practices near the top of the list include attorney Sarah A. Nyquist, who practices family law out of Anchorage and has been featured in the Anchorage Chamber of Commerce's "Top 40 under 40" list. Her firm, Nyquist Law, advocates for divorce and family custody cases. Nesbett and Nesbett PC also practice out of Anchorage, specializing in fish and wildlife cases along with aviation and business law. Michelle S. Nesbett serves on the Alaskan Bar Association Mediation Panel; she also serves as a board member for the Anchorage Neighborhood Health Center. David A. Nesbett is a member of the Committee on Fair & Impartial Courts and the Alaska Bar Association Discipline Hearing Committee. Richard Crabtree has been advocating for collector's rights for more than 30 years from his Anchorage-based firm. He modestly credits his win rate to his clients' good record keeping, but in reality, his firm boasts one of the highest attorney win rates in the state.
Over the past few weeks Premonition has issued a number of surveys of American and international legal data, including industry-specific analyses. Alongside these public disclosures, the company has recently partnered with New York University School of Law to make its database available to legal scholars.
Contact:
Nathan Huber
Premonition L.L.C.
Business Development Director
nh@premonition.ai
(615) 364-0924
Source: Premonition
Share: