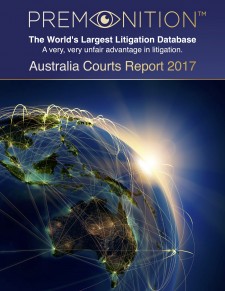 Miami, FL, September 5, 2017 (Newswire.com) - ​​In what could prove to be a highly disruptive event for Australia's legal industry, American analytics firm Premonition has issued what it claims to be the first ranking of Australian litigators based on performance metrics. The report is freely available for download at https://www.premonition.ai/reports/. Premonition's technology, which has automated the process of scraping court data from publicly available records and subjecting the information to an AI collating process, has generated attention (and controversy) wherever it has launched worldwide. The firm's massive stockpile of legal data allows general counsel facing litigation to see the actual winning percentages, average case duration and settlement figures negotiated by the lawyers involved in their case.
"Our new report on local litigation performance reveals top performers in every court from the Supreme Court of Tasmania to the Australian Trade Marks Office, and it's barely a fraction of a percentage of what our tech can do," says Premonition Australia Director Peter Fazio, who has also worked as a technology consultant to numerous Australian law firms. "A lot of major companies have successfully implemented analytics into virtually every aspect of the way they do business, yet hiring legal representation remains a costly blind spot that is going to be taken advantage of by those with the know-how to do so."
"Our data has proven that a client's choice of firm or barrister has a 30.7% impact on whether they win their cases," adds Premonition CIO and Co-Founder Toby Unwin. "If a modest investment in 'scouting' can turn a client's litigation portfolio from a 50/50 proposition to an 80/20, that represents a potential savings in the millions."
The release of this free report is part of Premonition's Australian launch. The firm recently added the full archive of Australian court records to its database, an undertaking that would have once taken tens of thousands of man-hours to do manually. It took Premonition's AI, which can read as many as 50,000 documents per second, a matter of weeks.
"The services we offer may be especially attractive to foreign companies forced to litigate in Australia," explains Fazio. "Previously, foreign companies would be at a distinct disadvantage without the advice of a local insider. We're better than any local insider. Our data can tell you which lawyers perform best in front of certain judges, and which ones are inflating their own claims of expertise in certain practice areas. Our AI is quite adept at picking out the superstar performers in a given jurisdiction."
Premonition's influence has been felt worldwide, with the firm appearing on several lists of the "most disruptive" companies in the legal industry, and a similar ranking of barristers in the UK inspiring changes to the way many firms there do business. 19 of the 25 largest global law firms now use Premonition software as part of their hiring process, and partnerships with prestigious educational institutions like the New York University School of Law promise to expand the horizons of legal research in the years to come.
Contact:
Peter Fazio
Premonition L.L.C.
Director, Australia
+61 414 590 991
Source: https://premonition.ai/
Share: