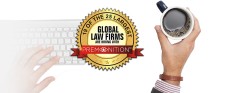 Premonition Analytics just announced the addition of the Australian and New Zealand Courts to its artificial intelligence system.
Miami, FL, January 12, 2017 (Newswire.com) - ​The World's largest litigation database, Premonition Analytics, just announced the addition of the Australian and New Zealand Courts to its controversial analytics product. Premonition is an Artificial Intelligence system that mines Big Data to reveal which Attorneys win before which specific Judges for a specific case type.
"It is a very, very unfair advantage in Litigation," according to the company. Lawyers are identified and sorted according to win rate, case type and duration, and most crucial, Judge. Their system has found the Attorney/Judge pairing to be worth 30.7% of case outcome on average. By analyzing compatible thinking, learning and presentation styles, between specific lawyers and judges, Premonition's system results in more effective representation and outcomes. "The old saying that 'A good lawyer knows the law, but a great one knows the Judge,' is true," says Guy Kurlandski, CEO.
In an industry where decisions are made mainly on outdated processes and intuition, Premonition uses Big Data mining and Artificial Intelligence to bring transparency to the courtroom. Law is traditionally a field that selects Counsel by law firm brand and peer recognition, so in order to analyze how effective the traditional lawyer selection currently is, Premonition conducted the largest legal study ever performed in The United Kingdom, and the results were astonishing. The study revealed that the correlation between pricing and performance is weak, and that a law firm's choice of barrister was 38% worse than random.
There is an insurmountable amount of value behind legal analytics, because litigators can be selected based on actual performance, as seen by Corporate General Counsel. "Performance transparency is more important than that," says Nissan Canada General Counsel and Premonition Board Member, Fernando Garcia. "For the first time ever, companies can make true color and gender blind hiring decisions. Women and minorities are under-represented in small to medium sized law firms that have traditionally been ignored by major corporations. The era of guesswork is over. Hiring by metrics has arrived."
"Our goal is to go beyond descriptive litigation statistics, by providing an accurate predictive legal analytics platform and the best assessment on future outcomes," says Premonition CIO and inventor, Toby Unwin.
Premonition raised a seed round of funding in October 2015 at a $100M valuation - among the highest to date. It has begun to raise a Series A round at an undisclosed multiple and Kurlandski claims the interest is considerable. The company is looking to expand its reach even further.
Premonition is one of the fastest growing companies in the legal field, with capabilities far beyond the industry norm. To accommodate this rapid growth, they are currently in the market to expand its partners. "We are a 'Perception/Reality Arbitrage' firm," states Unwin.
Premonition's artificial intelligence system can theoretically learn any court in any language and alphabet. They have recently expanded to include Dutch and Canadian courts and next to come are Ireland and India.
Contact:
Premonition L.L.C.
Guy Kurlandski
C.E.O.
gk@premonition.ai
+1 (305) 297-0803
Source: Premonition Analytics
Share: