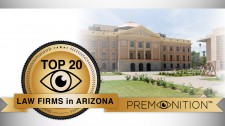 Miami, FL, May 10, 2017 (Newswire.com) - While that headline might sound like something the Weekly World News would run on page 6, next to updates on Bat Boy and Clone Elvis' secret honeymoon, Miami-based software firm Premonition Analytics announced this week the latest in a series of revealing surveys of the American legal sector, focusing this time on Arizona. Futuristic as the concept of artificial intelligence may sound, it has become an integral part of how businesses and governments break down huge volumes of information to make strategic decisions. Premonition claims to be the first to make a breakthrough with regard to analytics and court cases, with the company boasting the world's largest litigation database and an AI tool capable of 'reading' more than 50,000 court records per second to produce performance reports.
Although the company has declined to publicly release its full performance evaluations for Arizona's highest-volume firms (as ranked here by number of individual cases 2014-2017), the basic data available to Premonition clients includes win rates, settlement averages and average case duration.
Arizona's Busiest Law Firms
Blatt Hasenmiller Leibsker & Moore, LLC
Hammerman & Hultgren, PC
Maricopa County Attorney
Office of the Attorney General
Jaburg & Wilk, PC
Tiffany & Bosco, PA
Jones, Skelton & Hochuli, PLC
Law Office of Robert B. Stanewich
Shapiro Van Ess & Sherman, LLP
Manoil Kime, PLC
Burch & Cracchiolo, PA
Mark A Kirkorsky, PC
Portfolio Recovery Associates, LLC
Crosby & Gladner, PC
McCarthy & Holthus, LLP
Choate & Seletos
Wolfe & Wyman, LLP
Jennings Haug & Cunningham

Interestingly, the busiest firm in Arizona is Arizonan by a mere fingertip. Collections firm Blatt Hasenmiller Leibsker & Moore lists a single associate practicing from its Phoenix office, with the remainder of the practice concentrated in Chicago and Merrillville, Indiana. (In something of a twist, BHLM is not among Indiana's highest-volume firms.) Elsewhere on the Arizona charts, Phoenix defense attorney Robert B. Stanewich posted a sizzling 90+% win rate, good for second to the 95% score of the Maricopa County Attorney's Office. Stanewich, who does not have a website or online profile to speak of, nonetheless appears to be highly skilled in his areas of practice—thus serving as an example of how Premonition's artificial intelligence's blindness to marketing helps clients seek out attorneys who let their courtroom performance do the talking.
"We consider ourselves an information arbitrage firm," says Premonition CIO and Co-Founder Toby Unwin. "Our clients are able to exploit discrepancies between how firms advertise themselves and their actual results because we give them information no one else has." That information includes detailed performance statistics for attorneys and firms, such as how they have fared before specific judges and in certain case types.
"For example, in the United Kingdom we found that clients' attorney selection without Premonition was 38% worse than if they'd just closed their eyes and chosen at random," continues Unwin. "Whether you're trying to find the best lawyer for your case in Arizona or West Bengal, you'll surely do a better job of it with real information at hand."
- 30 -
Contact:
Nathan Huber
Premonition L.L.C.
Business Development Director
nh@premonition.ai
(615) 364-0924
Source: www.Premonition.ai
Share: