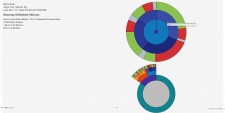 Premonition leverages its litigation database and expands its legal analytics platform with a new ability.
Miami, Florida, December 28, 2016 (Newswire.com) - Premonition, the Miami-based Artificial Intelligence company, releases Motions Analyzer, its latest report developed to increase the odds of winning in litigation by showing the win rate of motions in a particular court. By using the World's largest litigation database, Motions Analyzer determines the best motion to make in developing a data-driven approach to litigation strategy with potentially better legal outcomes. For example, only Premonition knows a change of venue may be the best motion to statistically make for a specific case type in a particular court.
In an industry where decisions are made mainly on outdated processes and gut feel, Premonition uses Big Data mining and Artificial Intelligence to bring transparency and provide new insights into the courtroom. Premonition's database, the World's largest, covers the United States and many other countries. The company describes itself as a "perception-reality arbitrage" firm, however, critics claim it offers "an unfair advantage to a small group of legal insiders."
By evaluating the specifics of a litigation case (i.e. case type, plaintiff/defendant, judge, court, opposing counsel, etc.), Motions Analyzer gives clients unprecedented insights on matters that can significantly affect the welfare of their businesses. For a look inside Motions Analyzer, see the video below or visit https://premonition.ai/take-a-tour/.
"Our goal is to go beyond descriptive litigation statistics, by providing an accurate predictive legal analytics platform and the best assessment on future outcomes," says Premonition CIO, Toby Unwin. "Motions Analyzer paves the way for precedent analysis by win rate, a new approach that will set case law research on its head."
Premonition expects to unveil more on predictive analysis for legal filings in the next few months. "We'd like our clients to know the answer before they file," says Unwin.
Contact:
Nathan Huber
Premonition L.L.C.
Business Development Director
nh@premonition.ai
(615) 364-0924
Source: Premonition
Share: