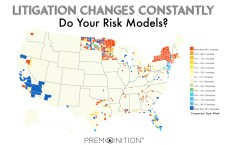 Premonition uses its Artificial Intelligence capabilities to search and attribute court cases to the insurance industry instantaneously, creating a data-driven capability to spot claims and take action before claims arrive.
Miami, FL, February 1, 2017 (Newswire.com) - Tampa, Florida is ground zero for a tidal wave of auto insurance fraud. Staged accidents increased 166% between 2008 and 2009 leading to a crackdown on auto fraud and poorly regulated medical clinics servicing the purported victims by the State and the Hillsborough County Sheriff. "The NICB [National Insurance Crime Bureau] ranks Florida number one in staged accidents with the number of such accidents in Hillsborough County increasing by 166 percent between 2008 and 2009," Insurance Journal reports quoting County Commissioner, Kevin Beckner stating county residents pay $350 a year in higher premiums and, "In Hillsborough County, we are paying $15.5 million in higher premiums due to fraud."
Insurers bear the brunt of these claims, eventually passing costs on to consumers. The industry has been hit repeatedly with auto fraud epidemics in Florida and has suffered similar massive losses nationwide from its inability to spot tidal waves of litigation until they convert into payable claims. Litigation data is spread over thousands of unconnected courts classified in a myriad of differing case classifications and formats. The lack of useful court data has left insurers blind.
"Everybody wins, except the bad guys."

Guy Kurlandski, Premonition CEO
Premonition (www.Premonition.ai), a Miami-based start up claims to have solved a task most legal technology experts believed to be impossible. Premonition uses Artificial Intelligence to crawl thousands of court websites in real time, downloading the cases and, most importantly, mapping them to insurance industry lines of business. "For the first time ever, an insurer can spot claims coming and take action before they arrive based on actual liability data instead of forecasts," claims Premonition co-founder, Toby Unwin. "Real time pricing is now a possibility." Unwin shared an auto lawsuit graph from Hillsborough County clearly predicting the spike in related insurance claims.
Pointing to a litigation "heat map" of the United States that showed changes in litigation by case type or insurance Line Of Business on a county specific level, Unwin said the Premonition is capable of allowing insurers to adjust underwriting on a county by county basis in real time. "It's also a great tool for re-insurers to ascertain whether a book of business is under or overpriced," he claimed.
The company hopes that greater transparency will lead to a more efficient litigation market, expose the bad actors involved with insurance fraud and ultimately benefit consumers in the form of lower premiums. "Everybody wins, except the bad guys," said Premonition CEO, Guy Kurlandski.
Contact:
Nathan Huber
Premonition L.L.C.
Business Development Director
nh@premonition.ai
(615) 364-0924
Source: Premonition
Share: